Over the past few years, a growing number of corporate leaders and experts have spoken out about how a strong shared sense of purpose can help companies meet dynamic challenges and transform their organizations. With little or no distinction between short or long-term interests, the tendency of a majority of executives is towards maximizing immediate profits at the expense of society and the environment, rather than creating long-term value. It has been proven time and again that a strong corporate foundation is key to generate higher and more consistent growth in revenue, profits, and shareholder returns.
What is a strong corporate foundation?
There are four pillars of a strong corporate foundation.
Purpose
Mission
Vision
Value
Purpose
Purpose forges a path for a business in which it wants to go forward and a sense of why they're in the business. It is often not about just reaping profits but a unifying factor which makes an organization successful.
An HBR Report on The Business Case for Purpose states, "When an organization prioritizes purpose, they grow and transform more vigorously than their peers customers are more loyal, and employees are more engaged." Another study by Harvard Business School found that an increase in clarity of purpose can increase ROA by as much as 3.89% per year.
Purpose driven organizations ultimately drive financial growth by creating a highly engaged and high performing workforce. The study discovered that when employees have a sense of meaning behind the work they do, their performance increases.
Research in the Journal of Applied Psychology found that when leaders connect to a purpose that aligns with their ideology and is meaningful to them, their team is also likely to connect with it. This authentic purpose not only gives a right direction to the business but also encourages the employees to go above and beyond their work duties. Employees tend to think out-of-the-box when even their personal goals align with the purpose of the organization. According to a report by Deloitte, companies driven by purpose have 30% higher levels of innovation.
Purpose-driven organizations do a better job of seeing the big picture, and they typically prioritize long-term improvements over short-term gains.The acclaimed book, Firms of Endearment, tracked the financial performance of 18 purpose-driven companies over the course of 10 years. These 18 companies had an average annual return on equity of 13.1%–9%—higher than the average company in the S&P 500. The book also found that purposeful companies outperformed the S&P 500 by 10 times.
An example of DTE Energy, a Detroit based diversified energy company, can be taken to understand how giving a strong sense of purpose has helped companies in the long run by increasing shareholder value, the company defined a new organization purpose in 2008.
The purpose statement reads, "We serve with our energy, the lifeblood of communities and the engine of progress."
From there the company and its senior leaders wove the purpose into every operation imaginable, be it training, meetings, and even sing-alongs. The outcome? As reported in HBR, "DTE's stock price more than tripled from the end of 2008 to the end of 2017."
Another example would be from back home, a logistics company built around the purpose of making logistics human. While the company grapples with the challenges of hypergrowth and building a sustainable business model, it went on to become a unicorn in the financial year 2019-20, valued at $1.05 bn. Its revenue rose by 42% YoY to INR 1,028 crore in the previous financial year. This year's outlook is 30%-40% annual growth. The company is looking to break even in 2020-21.
Mission
A mission statement is a way of showing what an organization does for its different stakeholders and what makes it stand out. It outlines the business's key objectives, who it serves or benefits and why it does what it does.
A well-articulated mission keeps employees engaged resulting in high performance. According to a 2015 Gallup poll, conducting interviews with 80,844 adults working for an employer in the US found that only 32% of employees are engaged with their jobs. Half are not engaged, and 17% are "actively disengaged."This reflects as a loss of billions in revenue due to employee turnover. On the other hand, employees who are completely on board with the organization's mission make an extra effort to make the company a success. According to the Dale Carnegie Institute, companies with engaged employees outperform those without by 21%.
According to Forbes, mission-driven workers are 54% more likely to stay for five years at a company and 30% more likely to grow into high performers. 81% of those working for companies with a strong mission stated their stakeholders hold trust for their leadership team, whereas that number was 54% for organizations without a strong or clear mission.
Let us take the example of the strong mission statement laid out by Starbucks. Starbucks is known for its customer experience, apart from excellent coffee, and that is a pure reflection of its mission. Their mission statement reads, "Starbucks mission is to inspire and nurture the human spirit – one person, one cup and one neighbourhood at a time." This powerful mission statement inspires their Baristas to serve with love.
Also, in terms of financial performance, companies with a clear and precise mission statement tends to give a clearer direction of its employees to work better and ultimately leads to improved value addition and financial performance. According to Deloitte, organizations high in trust are 2.5 times more likely to function as a high-performance organization with revenue growth than lower performance organizations.
Vision
A company's vision is the fundamental belief on which it is based. It is the bedrock of the organization's culture. It is the position where the organization would like to see itself in the coming future. It is proportional to how people grow in the organization.
A vision statement communicates the business's long-term aspirations, and it reflects its view of the world and the business's position in it. A clear vision of the organization states where it aspires to be. Employees like to forge their career path in accordance with the organization's vision. As per Forbes, employees who find their organizations' vision meaningful have engagement levels that are 18 percentile points above average.
A clear and meaningful vision of the company results in employee engagement levels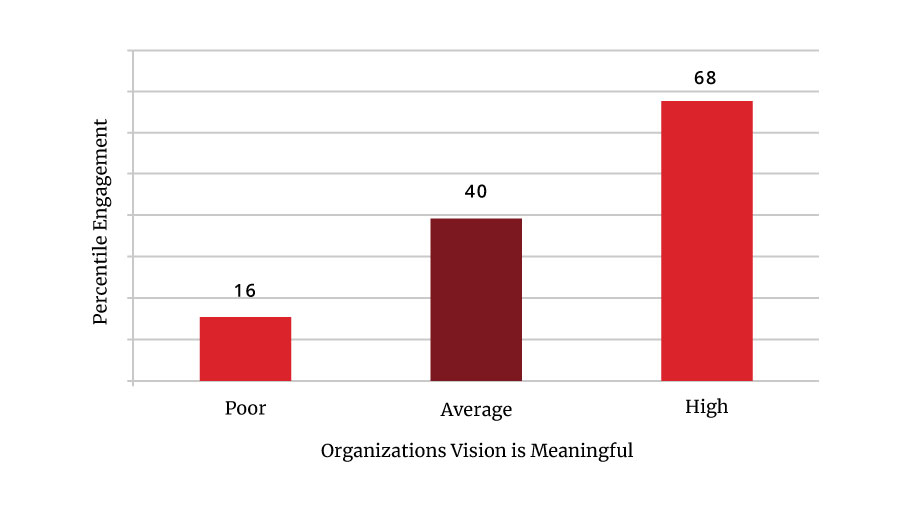 Let's look at Amazon as an example. Amazon's astounding success is linked to its clearly defined and implemented vision- "Our vision is to be Earth's most customer-centric company; Our mission is to build a place where people can come to find and discover anything they might want to buy online."
Their vision statement underscores the organization's aim of becoming the best e-commerce company in the world. In this regard, the following characteristics are identifiable in Amazon's corporate vision statement:
Global reach
Customer-centric approach
Widest selection of products
The American Customer Satisfaction Index recently announced the results of its annual survey, and for the 8th year in a row customer ranked Amazon #1.
Core values
Values are the fundamental beliefs on which a business is built. Core values impact all the actions, behaviour and choices directly. Core values are the guiding principles that a business uses to manage its internal affairs as well as its relationship with the stakeholders.
For example, American Express sets itself apart from other credit card companies in its list of values, with an ode to great customer service, something its famous for.
The blue box of values at American Express emphasises on customer service enabling it to achieve their vision of becoming the world's most respected service brand.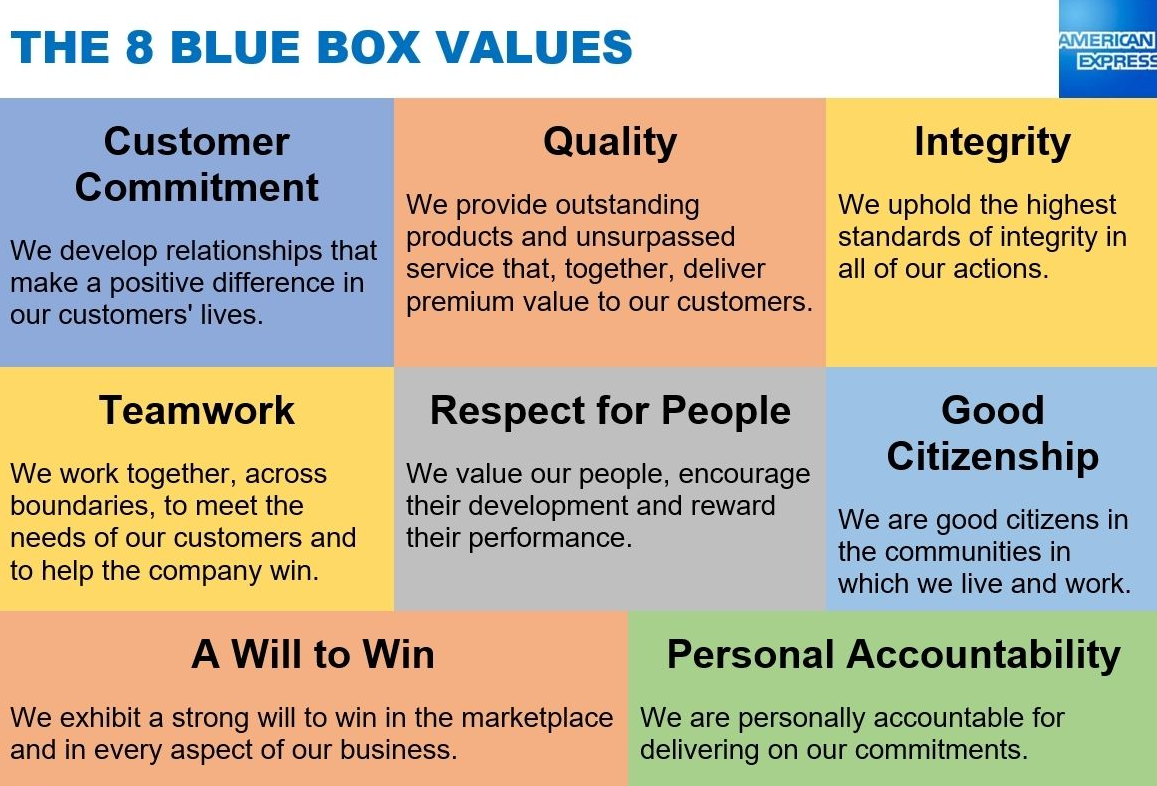 The core values of American Express emphasize teamwork to facilitate unfaltering support to their customers. This is the reason behind it being a pioneer when it comes to customer satisfaction with credit card companies, as reported in the fourth annual nationwide study by J. D. Power and Associates.
In India, Tata is the first organization that comes to mind when we talk about ethics and values. Tata is India's most valuable brand at $14.2 bn as of 2018. With its strong value system and unique business model, Tata is an exemplary example of values personified.
All the businesses under the umbrella of Tata, have resolved and committed to evolve stronger connections between their values and best-in-class business practice – not by putting either one ahead of the other but by building mutually beneficial bridges between them.
The value of the brand itself is associated with the philanthropy of trusts of the company. It also suggests that three key values lie at the heart of the Tata Corporate brand - trust, reliability (especially in terms of quality and value for money) and service to the community.
From starting out small in India, Tata now has a major international reach with 65% of the group's revenue drawn from businesses outside India. The latest figures show a revenue of $110.7 bn (2018).
"Business, as I have seen it, places one great demand on you: it needs you to self impose a framework of ethics, values, fairness and objectivity on yourself at all times." ~ Ratan N Tata, 2006
Strong Corporate Foundation
By binding these pillars together a strong corporated foundation is created. Once the employees truly understand and imbibe the purpose, mission, vision and values of the organization and work with them as a guiding principle, a strong corporate culture is formed leading to business growth.
Having said that, creating and maintaining a strong and influential corporate culture is not as simple and is not dependent on merely having the company mission/purpose written in documents and books.
According to MIT Sloan Management Review report:

A strong corporate culture starts with a well-defined mission and vision statement. These in turn guide a company's values and provide it with a purpose. Values are of little importance unless they are enshrined in a company's practices. To build a strong foundation, organizations need to ensure that these pillars are not only well written but also well implemented throughout the organization.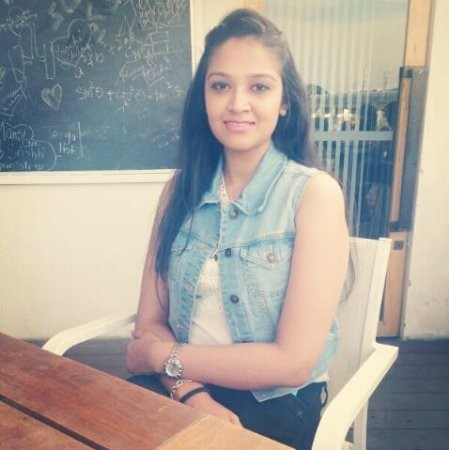 Sehtaaj is an associate consultant at BOD. Coming from a digital marketing background, she is passionate about helping brand successfully execute Digital Transformation. She is on a constant quest to learn, explore, reinvent, and grow.
Contact BOD

How can we help you?