A major mid-market player in the Asian architectural fittings and hardware sector - wanted to grow its topline 10X in the next five years. This meant that strategy, infrastructure, capabilities and distribution - everything had to be enhanced to ensure that it had the best shot at taking on multinationals which led the market in India.
On the surface, our client had the right fundamentals - an existing network of distributors which relied on our client's brand to sell their inventory, a functional procurement supply chain, a decent market share and a healthy balance sheet.
A business model transformation and brand re-positioning was clearly on the cards to help it achieve its 5-year goal. However, an in-depth assessment revealed an impactful systemic challenge. The challenge was real time data and analytics. For example, while sales across their key markets were at an all time high, a deeper inspection illustrated that those markets were also the least profitable. Why? Because the key metric that the leaders tracked were gross sales in the region, incentivizing sales staff to achieve those targets at any cost. That translated to achieving targets by providing deep discounts to distributors. 
This was a problem for the following reasons:
It created an inorganic uptake in product adoption leading to distributors expecting discounts all the time.
Squeezed margins leading to stagnated growth due to lack of a healthy cash balance left for the company to allocate enough capital for innovation and aggressive growth.
A vicious cycle of inorganic growth and stagnated margins compromising growth rate potential over the years.
This problem was further exacerbated by the fact that this was news to the leadership and key decision makers. There was no data and analytics infrastructure that informed them - real time - about these challenges. Leading to a classic case of 'Unknown Unknowns' and a strategic blind spot.
Data is the new Oil
'Data is the new oil, and analytics is the internal combustion engine' - said Peter Sondergaard. We see this lesson progressively gaining relevance for clients of all sizes, industries and sectors. We have seen that companies that rely on data and analytics to validate or invalidate their business strategies, tactics or programmes are able to gain a real edge in the market and compete at the highest level. Independent research supports this finding emphatically. For starters, a Gartner research states that by 2022, 90% of corporate strategies will explicitly mention information as a critical enterprise asset and analytics as an essential competency. On a strategic front, companies are changing and reshaping their business models with breakneck agility, thanks to data and analytics.
Data and analytics are now changing the basis of market competition. Leading companies are using their capabilities not only to improve their core operations but to launch entirely new business models. Data sets and sources are becoming great unifiers and creating new, cross-sectoral competitive dynamics. About one-third of respondents in a McKinsey report had cross-sector dynamics at the top of their mind. For instance, worrying that "companies from other industries have clearer insight into my customers than I do." Lastly, data is driving business RoI, with a McKinsey report stating that smart analytics can tap upto 20% of lost ROI.
Making Data and analytics functional for MMEs
Data and Digital as a discipline and a value driver for Indian businesses is still under-invested in. With less than 5% of Indian companies having adopted emerging technologies, it is abundantly clear that the mid-market segment needs to do much more to leverage the value that real time data and analytics can offer.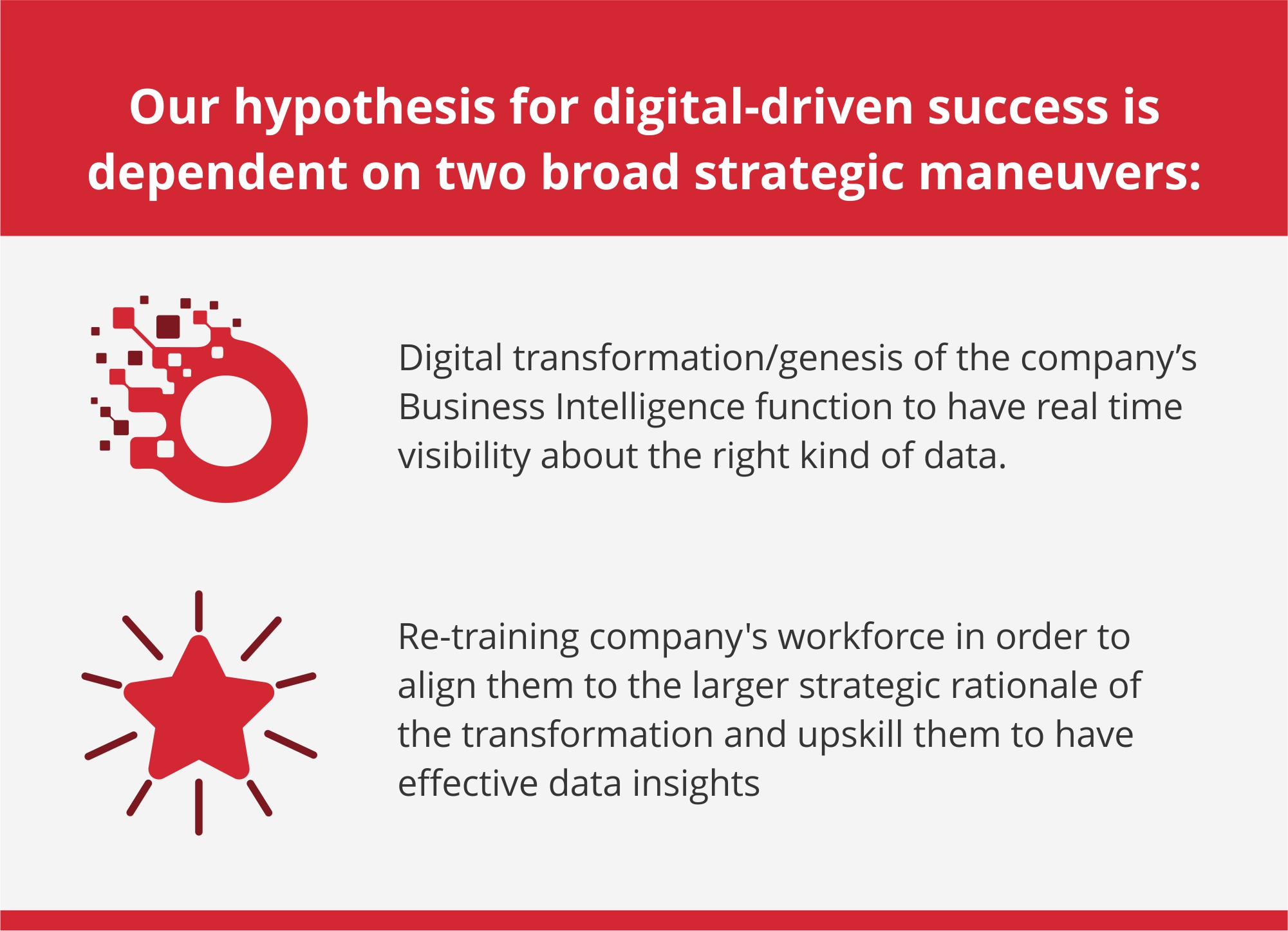 Further, achieving these strategic outcomes is dependent on the following factors: it being a top priority for leadership and executives, having the company's digital strategy aligned with the overall business strategy, investing in a holistic digital transformation to create programmes rather than fragmented tweaks, having a robust and qualified team executing the digital & data strategy iteratively and lastly upskilling all company personnel to become data citizens.
Leadership & Key Personnel Investment
We must realise that data and digital transformation within a company ranges throughout the organisation while being executed. It is as holistic as restructuring, or entering a new market. So it is absolutely imperative that leaders and top executives in the company are not only aware of this, but are at the helm of the transformation - directing the firm and leading by example. This factor finds credence through this research done about the success of digital transformations of 263 companies.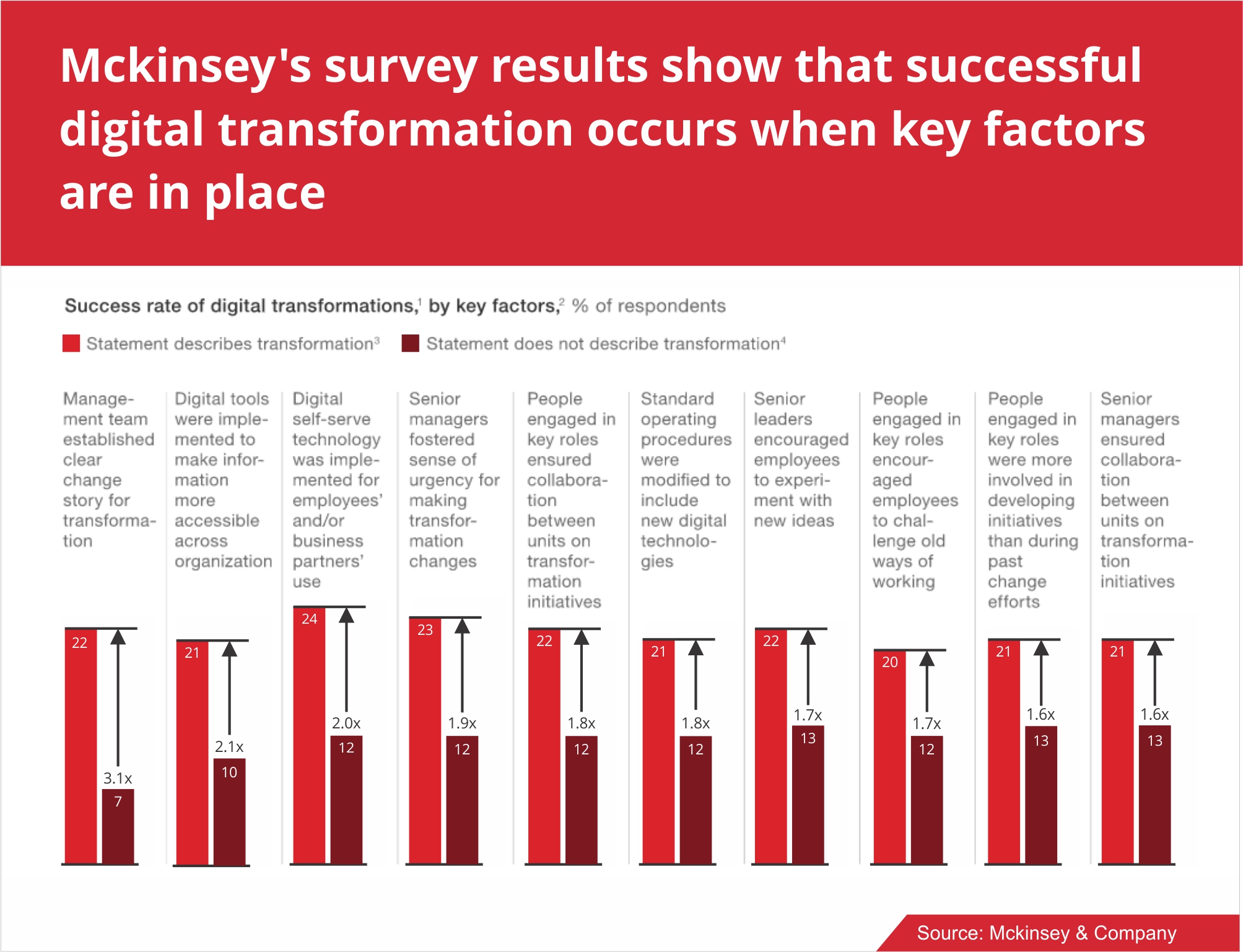 As we can see, companies where management established a clear change story for transformation were 3.1 times more successful at the effort than their counterparts. Similarly, we can see that on average companies where senior leaders fostered a sense of urgency for the transformation, encouraged employees to experiment with new ideas and ensured collaboration between units on transformation initiatives were on average 1.6 - 1.9 times more successful at adopting a digital culture.
Aligned with overall business strategy
Your company's digital strategy must be aligned with your business strategy. This one is a systemic factor and quite an important one since a mis-alignment between the two can lead to either the transformation effort failing mid-way or worse, it being executed on a surface level. Both are bad outcomes from a capital allocation standpoint. Moreover, it's imperative that strategic alignment exists because without it, there is no intrinsic reason for the leadership and executives to want to prioritise digital in their daily work flows, and urgency to deliver it is lost. This alignment is manifested by setting clear and ambitious targets for digital transformation which service strategic goals for the company.
Setting targets aligned to the company's strategic goals ensures that everyone is inspired and bought in about the rationale of the transformation. Secondly, it ensures more resilience when the going gets tough and ensures the operational discipline that is ever so important in execution for critical changes like this.
Holistic & Programmatic Transformation methodology
As counter intuitive and risky as it may sound, transformations are more successful when the scope of transformation is company wide and across key verticals and departments. Research shows that cross-functional operations transformations—emphasizing the interactions between product development, procurement, manufacturing, supply chains, capital expenditures, and services—typically outperform their single-function counterparts by between 30 and 40 percent. We also know that companies who ensure collaboration between units on transformation initiatives are about 1.6 times more successful in their transformation efforts. 
This tactic becomes more relevant when we realise that while business is becoming progressively more collaborative. Silo breaking is fast becoming one of the most systemic ways that organisations across geographies and scales are unlocking stakeholder and shareholder value. To ensure that our transformation efforts do not fall prey to statistics (2/3rd of transformations often end up falling short of their goals or do not sustain), we must combine deep expertise with a cross functional view of the programme and the effort.
A highly qualified human capital infrastructure
Data and analytics is a hard skill for a company to build. And like any other skill, it takes time, resources and sustained efforts. It is now no longer sufficient for leaders to simply outsource this function to an analytics firm, or to partner with a data tool company to execute on the transformation. It is imperative that they invest in human capabilities within the firm to fast track data recon missions thereby speeding up business decisions. This helps the transformation by ensuring that there are internal strategic champions for the effort that become a voice of data in the boardroom by being the custodians.
For companies not knowing where to start, it is often advised to start off by having an anchor hire. An experienced, subject matter expert who attracts other key hires to roll in and begin the long journey of a successful digital transformation. Most often, this anchor hire becomes the Chief Digital Officer, who then creates an organisation around herself by hiring for roles at various levels, and takes on the accountability of a smooth execution and quality assurance.
Data Citizens
With the entire ecosystem and the culture in the company shifting and levelling up, it becomes obvious that your employee base will need to prepare itself for the upcoming paradigm shift. Research shows that 46 percent of financial services executives feel cultural or behavioral change is the biggest challenge they face in pursuing their digital strategies. So much about the way a company operates is about to change - consumer interfaces, the ever growing emphasis on real time data, the demand to be comfortable with failing fast and iterating to course correct. All of these behaviours are going to be critically important for employees for a digital first company. Employees will need to become data citizens. 
You can enable this within your company through two levers:
Upskilling- providing upskilling would involve bouts of training - formal and on the job to incentivize employees to change behaviours and problem solve through collaboration and self-learning.
Ownership - providing ownership can be extremely powerful if managed well.Leaders can achieve this by taking on the mindset and role of VCs within the companies and setting strategic constraints and encouraging their employees to experiment and pitch ideas through effective business cases and then funding and guiding the best of those through the execution. 
Data and analytics is going to materially impact your company soon, ready or not. With the vast scale, resources and years of growth and existence, industry stalwarts enjoy network effects which has already allowed them to gain a significant lead over anyone else in their market share. For SMBs, the question is now no longer about whether they should transform their company but how soon can they do it. It will soon become a question of survival within the market. Fortunately, mid-market companies have the advantage of being lean, nimble and agile by design. And therein lies your edge in racing ahead and gaining functional digital competence faster than industry giants. It is now a matter of committing to it and executing. 
After over a decade of solving complex business problems for mid-market companies, we at BOD understand the challenges and roadblocks that arise when companies embark on ambitious projects like a holistic digital transformation. We not only are experienced and solution oriented to add credible financial value to your transformation efforts, but we also enjoy the privilege of having a network of highly competent implementation partners allowing us to support you through your execution and beyond. Reach out to us if you are looking to convert your insights from this article into tangible business value for your company today by emailing us at info@bod.consulting.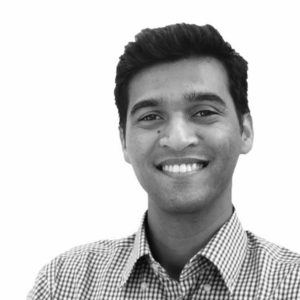 Sneheel is a Business and Brand Strategy Consultant at BOD. He is passionate about creating impactful companies and creating brands that truly make a difference.
He is versatile, creative and experienced in organizational, campaign scaling, business design & marketing strategy. Sneheel also has experience in agile planning, team management and business modeling. He is passionate about governance, behaviour change and the social sector, with ultimate goal of wanting to enable and empower social ventures to perform better by delivering scaled systemic support and impact investment.
Contact BOD

How can we help you?