There has been a rapid development of new digital computing technologies since the beginning of this millennia. The ubiquity of smartphones for consumers and the infinite use cases they bring along is just the tip of the iceberg. Technologies like IoT, Cloud, Big Data, etc. which were thought to be concepts less than a decade ago, are revolutionising traditional industrial practices.
The phrase 'Industry 4.0', which was first used back in 2011 by the BMBF in Germany to emphasis on the digitisation of the manufacturing sector, has gained significance globally.
What is Industry 4.0?
Industry 4.0 is the name given to the period of digitisation of manufacturing processes driven by advanced connected and cognitive computing technologies. It is also referred to as the 4th Industrial Revolution. This is not a new concept or a technology, the trend of digital transformation and the movement towards automating processes has been going on for a few years now. However, it has become imperative for manufacturing firms across industries to become a part of this change.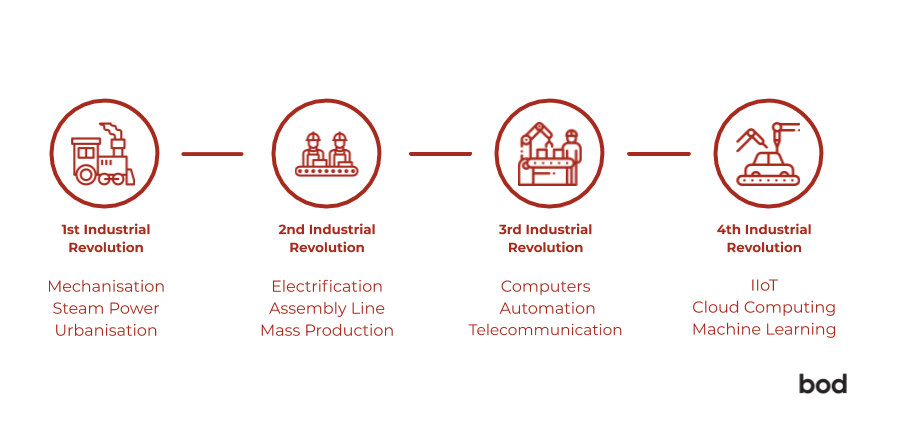 The first three industrial revolutions came coupled with major scientific breakthroughs that transformed the manufacturing industries and simultaneously contributed to the evolution of urbanisation. Industry 4.0 is, however, more of an extension to the previous phase of development of advanced computing processes, connectivity, and automation. This can be largely attributed to the disruptive innovation which has happened in the last 10 years in different segments of technology.
What this means for manufacturers across the globe is that now there are more efficient and effective ways to produce goods faster and cheaper, while maintaining high-quality standards at the same time. It's all a matter of understanding the end objective and identifying the technologies which can come together to achieve it.
The video given above demonstrates how Alibaba utilises autonomous robots to manage its warehouse. This is just one use case of how the digital and physical systems can work together to improve efficiency. Depending on the requirements of a particular firm, different technology frameworks can be brought together to develop tailor-made solutions.
An overview of the technologies involved
Getting onboard with this wave of digital transformation in manufacturing has become a non-negotiable strategy for firms globally. This is largely necessary to stay at par with the competition which is adopting these new age practices.
Leaders and managerial heads of organisations, particularly involved in manufacturing and related industries, need to be aware of the contemporary technologies that they can utilise for improving processes. Some of these core technologies are given below.
1. Internet of Things (IoT)
IoT or in this case IIoT (Industrial Internet of Things), brings about the connectivity that is responsible for M2M (machine to machine) interactions responsible for automation. One can understand this better by looking around at everyday objects like television, lighting, printers and other appliances which can now be controlled wirelessly and remotely via the Internet.
Similarly, in a plant set up, different machines can be coupled wirelessly. Further, these systems can be connected to computing devices that can measure efficiency, faults, consumption etc. This can help enable a self-operating automated system that requires minimal human intervention.
2. Big Data
Big Data represents large amounts of structured or unstructured data which can be analysed to obtain relevant information about trends, patterns, connections, etc. Several tools are now available to harness this information for making strategic decisions.
3. Cloud Computing
Cloud computing enables remote monitoring and control of processes. In the scenario where multiple sites are operating in different locations, the usage of cloud servers can enable the sharing of data and systems.
4. Real-Time Analytics
Complete automation can be brought about only by the enablement of data and intelligence exchange between all systems. Real-time analytics can not only help operators make faster decisions, but also bring about self-optimisation at plants.
5. Machine Learning
The basis of development of machine learning and other related computing technologies has been to bring about the automation of repetitive processes and reduce human effort. Smart machines can leverage the information obtained through the cloud and predict the next steps they would need to follow.
6. Robotics
Advanced robots can be treated like a tangible extension to smart systems. Industrial robots have been around since after the 3rd revolution, however, most such machines performed only one-dimensional tasks. Again going back to the automated warehouse in the video above, robots can now be developed with improved capabilities.
7. 3D Printing or Additive Manufacturing
The trend of 3D printing started with the development of small machines that could be used to create small-sized solid objects from a prototype. The same technology has evolved for a variety of industrial applications.
8. Augmented Reality & Virtual Reality
Both AR & VR technologies, however different, are going to play a major role in shaping up how real-time simulations are done. Experimentation and testing of expensive physical systems can now be done prior to their actual development.
9. Cybersecurity
In the presence of such high-level data exchange over multiple networks, a malicious hack or a bug can result in heavy losses. Hence, the final piece of the puzzle is to build a robust security system. Cybersecurity technology has also come a long way from simply detecting bugs or setting up firewalls against known entities. The entire gamut of IoT includes a variety of devices, and cybersecurity systems should be able to safeguard all of them.
4 Considerations while designing Industry 4.0 frameworks
Connectivity, data exchange, and machine learning have created the base foundation for Industry 4.0. The objective of creating a 4.0 system would be to enable real-time information exchange between smart machines, so as to automate different processes in the entire operations chain.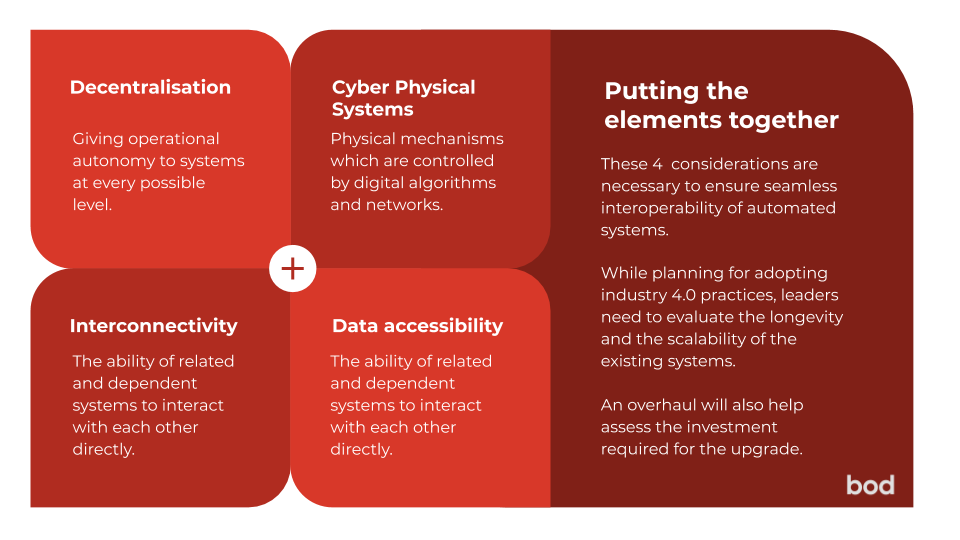 Implementing the change
Building a strategy for new age manufacturing is not a straightforward process. Every organisation is different. Setting the objectives for the adoption of new systems should be the foremost priority. In addition to answering 'What do we want to achieve?', leaders also need to answer 'Why do we need to do this?'. It is only after this that the 'How' part can be assessed.
Depending upon the size of the organisation, some operations might have to be outsourced, whereas some could present an opportunity for upskilling the existing workforce. In any case, leaders would need to equip themselves with all the possibilities and potential roadblocks for creating an effective implementation strategy.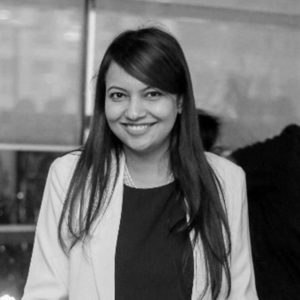 Sugandh is a curious and a versatile individual who enjoys developing solutions for real life business problems. She comes from a digital background, and has several years of experience in B2B marketing. She is an engineer by education, and has been closely involved with the technology business ecosystem since 2013. At BOD she helps clients find the most cost-effective solutions to counter the obstacles hindering their growth. In her last role she led operations and marketing at India-based digital business publication and platform Iamwire.
She is driven by the desire to learn and create new things, from creative arts to new business strategies.
Contact BOD

How can we help you?