The Challenge
A publicly-listed, global manufacturer of lamination films was facing stiff pricing pressures in an increasingly competitive and commoditized market. The product-centric business strategy was failing to make any significant contribution to their growth. BOD stepped in to help the company de-commoditize its business model and evolve their commodity mix from 'pure commodity' to 'commodity with value-added' offerings.
Our Approach
In order to de-commoditize the firm, it was necessary to bridge the gap between product development and the actual end-user application of their products. The same would also usher in a culture of customer-centricity. BOD created a framework to map the entire customer journey. This ranged from identifying customer needs to re-defining the post-sales service, building an internal brand, and facilitating the creation of a culture of customer-centricity across departments.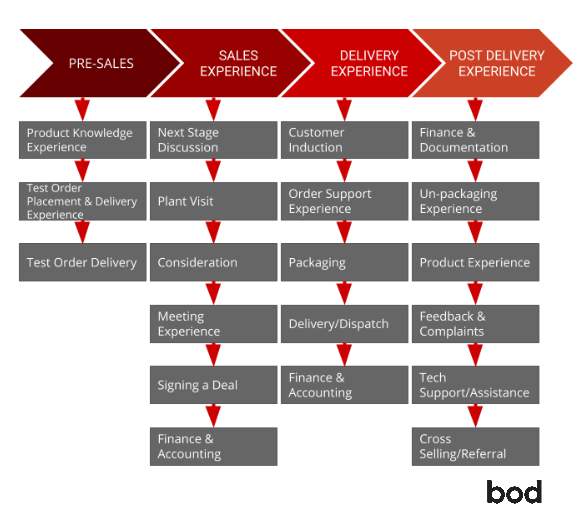 Snapshot of customer journey mapping
Over a period of 3 years, several initiatives were undertaken to transform both the brand and the business from the inside out. This included a brand transformation, followed by the launch of strategic value-added products to grow the company's portfolio without growing its operational expenses.
Guidelines were laid down to implement the customer-centric strategy internally. This was done with the help of intensive brand training workshops and internal branding activities. BOD helped the firm in devising plans for value-based marketing and experiential marketing to reach the company's prospects. Brand localisation strategies were developed for 4 key international markets – USA, China, India and Japan. Above all, alignment of business operations and internal stakeholders was key to making the new approach a success.
Impact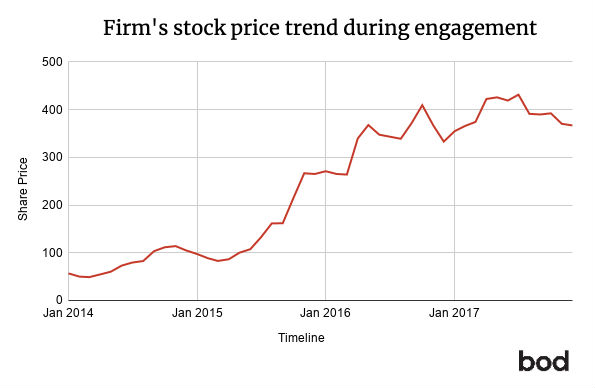 BOD was able to help the client develop its value-based portfolio to contribute to its top line growth. Further, we assisted the firm to implement the transformation via multiple branding and marketing initiatives. In the successive years of engagement, the company's stock price grew as shown in the graph above, along with its brand equity.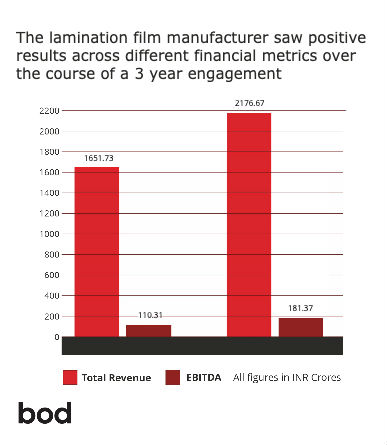 The consolidated revenue of the company has been growing YoY post the inclusion of the value-added portfolio in the second year of engagement. Over the course of engagement, i.e. Year 1 to 4, the consolidated revenue grew by 17% and EBITDA by 64%.